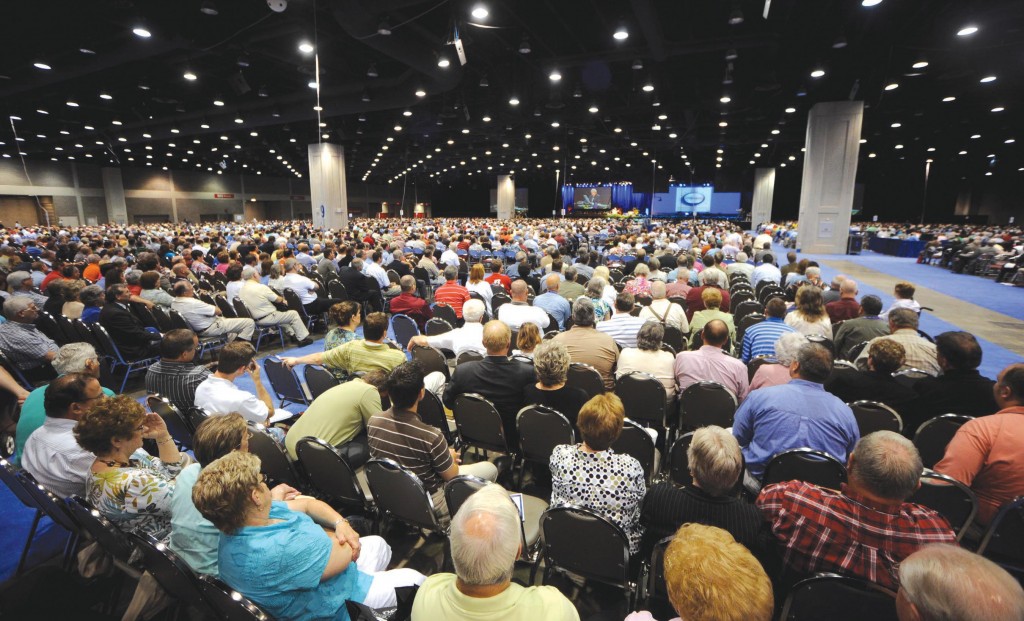 LOUISVILLE, Ky. (BP)—With the goal of finding ways Southern Baptists "can work more faithfully and effectively" together in fulfilling the Great Commission, messengers to the convention's annual meeting June 23-24 gave the green light to a task force to examine the denomination for one year and report back to the 2010 meeting in Orlando, Fla.
Debate over the proposed Great Commission Task Force and an Internet document dubbed the "Great Commission Resurgence Declaration" had dominated pre-convention talk, with some Southern Baptist leaders backing it and others expressing concern. In the end, though, the 8,700-plus messengers at the annual meeting overwhelmingly supported the task force via a motion that gave Southern Baptist Convention President Johnny Hunt authority to appoint the panel—something he did on the meeting's final day, naming 19 members. The actual GCR document that had sparked the discussion never was proposed, much less came to a vote.
The denomination was meeting in Louisville, Ky., to help commemorate the 150th anniversary of the founding of Southern Seminary.
In other top annual meeting news, messengers:
• received an update about the GPS (God's Plan for Sharing) evangelism initiative, which aims to see every SBC church planting other churches by 2020.
• passed a resolution that calls the election of President Obama a step toward nationwide racial reconciliation but that heavily criticizes him for some of his policies.
• passed a resolution encouraging Southern Baptist families to prayerfully consider adopting or fostering children.
• approved an Executive Committee recommendation to cease the "cooperative relationship" with Broadway Church in Fort Worth, Texas, over the issue of homosexuality.
• re-elected Johnny Hunt to a second one-year term as president.
But the Great Commission Task Force was the leading issue, not only in the minds of messengers, but also for several of the meeting's preachers. The task force had the backing of Hunt, who is one of the 19 members and who named Arkansas pastor Ronnie Floyd chairman.
"I feel like the Southern Baptist Convention is in what we call a defining moment," Hunt said at a press conference following his re-election. "We are defining our priorities and . . . we're saying to our 43,000 churches: The Great Commission needs a resurgence. We need to fund our missionaries. We need to have more money for church planting. We need to be more intentional with the GPS."
"Sometimes, the overlap has proved to be very healthy," he said. "But other times, the overlap is maybe taking some dollars (away) that could be placed somewhere else to cause us to go further in piercing the darkness with the Good News."
In addition to Hunt and Floyd, the task force includes Page; Mohler; Jim Richards, executive director, Southern Baptists of Texas Convention; David Dockery, president, Union University; Simon Tsoi, first vice chairman, International Mission Board; Donna Gaines, Cordova, Tenn., Bellevue; Al Gilbert, pastor, Winston-Salem, N.C., Calvary; J.D. Greear, pastor, Durham, N.C., Summitt; Tom Biles, director of missions, Tampa Bay Association, Executive Committee member; Danny Akin, president, Southeastern Seminary; John Drummond, Panama City, Fla., St. Andrews; Harry Lewis, North American Mission Board; Mike Orr, pastor, Chipley, Fla., First; Roger Spradlin, pastor, Bakersfield, Calif., Valley, Executive Committee member; Robert White, executive director, Georgia Baptist Convention; Ken Whitten, pastor, Tampa, Fla., Idlewild; Ted Traylor, Pensacola, Fla., Olive.
Southern Baptists ceased their relationship with Broadway Church following a year-long study by the Executive Committee that began with a motion from the floor at last year's meeting. The congregation has at least two same-sex couples in the church. Supporters of the Executive Committee recommendation said that while the convention fully supports ministering to the homosexual community, the church—by its actions—was in violation of Article III of the SBC Constitution, which states that churches "which act to affirm, approve or endorse homosexual behavior" are not in friendly cooperation. Some of the church's openly homosexual members serve on church committees.
In other convention news:
• Geoff Hammond, president of the North American Mission Board, told messengers that the SBC's associations and 42 state conventions "have signed up" for the GPS challenge and "joined hands" together with the goal of seeing every SBC church, by 2020, planting other churches. Messengers were given a paperback book by Hammond titled, God's Plan for Sharing: North America: Your Mission Field.
• Thanks to a gift from the Southern Baptists of Texas Convention and an offering from the SBC Pastors' Conference, the International Mission Board received more than $100,000 to help fill the gap from its Lottie Moon Christmas Offering shortfall. The Lottie Moon offering fell $29 million short of its goal and $9 million short of its previous year's total.
• The annual Crossover evangelism outreach that precedes the annual meeting yielded more than 1,000 decisions for Christ. Approximately 3,000 volunteers from 107 churches participated.
• John Mark Toby, pastor of Somerset, Ky., Beacon Hill, was elected first vice president, while Stephen Rummage, pastor of Brandon, Fla., Bell Shoals, was elected second vice president. John Yeats, director of communications for the Louisiana Baptist Convention, and former editor of the Baptist Messenger, was re-elected SBC recording secretary, and Jim Wells, director of missions for the Tri-County Association in Nixa, Mo., was re-elected registration secretary. Mac Brunson, pastor of Jacksonville, Fla., First, was elected to preach the 2010 convention sermon in Orland, Fla.
Next year's annual meeting will take place June 15-16 in Orlando, Fla.