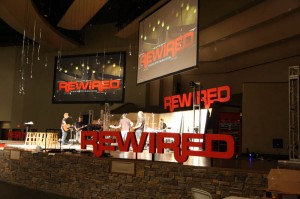 DAVIS—Even the hardest of hearts would have been softened during the Friday Night Main Event of the 2013 Rewired State Men's Retreat, April 26-27. More than 3,000 men convened at the Falls Creek Baptist Conference Center, and countless decisions for Christ were made as a result of a powerful experience during the evening service.
"I believe Friday night's service may be the most impactful service in the history of Rewired," said Keith Burkhart, family and men's ministry specialist with the Baptist General Convention of Oklahoma (BGCO). "Countless men experienced forgiveness and freedom over pornography and idolatry through the power of God."
Burkhart said Rewired's Friday night service usually features a nationally-recognized Christian speaker. This year, however, a panel of seven men joined Burkhart on stage and openly shared their brokenness by what the world has to offer.
"Quite frankly, we haven't talked much about it in the church," said Burkhart while speaking during the service about pornography and stating the original plan was to cover this epidemic solely. "This is not just about pornography. It's about idolatry. We must address idolatry in the lives of men in the church and in the world. It's not going to be pretty. We must ask the hard questions."
He did ask hard questions to the panel, which included Bob Bevington, executive director of Cruciform Press; Bret Ellard, Christian counselor and member of Shawnee, Immanuel; Rick Furmanek, former pastor who is currently a nature photographer; Brett Hendrix, founder of Changing Lanes Ministries; Lance Lang, executive director of "Hope is Alive"; John Wolf III, founder of Lifestyle Resources; and Jerry Wright, founder of Men Living Up.
Along with pornography and extramarital affairs, the panel admitted to being involved in other "private sins" while maintaining a false image toward their family and those who knew them at church. Furmanek said his idolatry was his pride and the power he felt while leading his church, and it eventually cost him his position as pastor. For 15 years, he said he harbored anger and turned to excessive eating.
Some shared how their secret sins cost them their marriage or their job and forced them to go through periods of heavy guilt and shame. Lang, who dealt with drug addiction, shared details of his challenging path that eventually led him to recovery.
All of them confessed that, to overcome their idolatry, it took an act of surrender. Bevington shared it took him being broken and coming to the point of realizing Christ's love for him.
"Someone told me the only thing that ever changed anyone was love," he said while sharing the message of Rom. 5:8 which reveals the death of Christ is the ultimate demonstration of His love.
Wolf admitted that after going through a continual series of "this is the last time," with his sinful behavior, he gave four key aspects of overcoming idolatry which are counseling, accountability, developing boundaries and the power of God.
An overflowing response of surrendering followed the panel's discussion. Writing on white flags, men revealed their sins and struggles and held up their symbols of surrender while singing Chris Tomlin's song "White Flag," which states "We raise our white flags, we surrender all to you, all for you." The scene in the Falls Creek Tabernacle resembled an ocean of white with flags raised throughout the assembly.
"Stories of transformation were taking place all over Rewired," said Burkhart, adding that two decisions made during the retreat's breakout sessions. "During Jim May's (associate/missions pastor at Ardmore, Trinity) overflow session on 'Sharing Your Story that Will Win Others to Christ,' Jim was going through the story of Paul's conversion before King Agrippa in Acts 26. A young man seated on the floor said, 'I don't have a story like that!' Jimmy shared the Gospel, and (the young man) prayed and asked Jesus into his heart, and the entire room broke out into applause."
Burkhart also said during former University of Oklahoma football player Bubba Burcham's session, "Manhood from a Coach: Get in the Game and Off the Sidelines," a man said, "I need Jesus!" Other men gathered around him, prayed for him and he asked Jesus into his heart.
Men also took part in a joint demonstration with participants at the ladies' retreat that met at Falls Creek, April 19-20. Using a large wall that was constructed by BGCO Baptist Building Manager Rick Brown, the women wrote on one side that featured the words "On Our Knees," emphasizing they were praying for their husbands and other men who will take a stand against pornography. The men wrote on the other side that featured the message "Surrender," stating they will commit to living a porn-free life.
BGCO Executive Director-Treasurer Anthony L. Jordan was the featured speaker at Rewired's Saturday morning session, and he drew the net, challenging those present that is was "time to decide whether or not to step across that line" and become mighty men of God, as they are described in the 12th chapter of I Chronicles.
Jordan offered three characteristics of those whom King David called his mighty men as the former shepherd boy moved to accept the throne of Israel. Jordan said they were, first, singularly loyal to their king. Second, they were strong men, and third, they were fearless.
"We live in a world that wants to destroy us," Jordan declared, "But, I am here for one purpose today; I am here to call you to be mighty men of God."
Jordan said he is "sick and tired of Satan kicking us all over the place."
Turning to military phraseology, Jordan told the crowd, "It's time to sign up for the King's Army. You have to die for Christ and become a spiritual Navy Seal."
Acknowledging that the men can't do that in their flesh, Jordan reminded them that God gives them the strength to do it by providing the "full armor of God," as outlined in Ephesians 6.
"The King gives you His might," Jordan exclaimed. "The greatest power in the world is the love of God . . . the strongest man in the history of the world wasn't Sampson, it was Jesus!"
Jordan said "God is calling out an Army, and the greatest victory you will win is from your knees."
Finally, the BGCO leader said he is fearless, "because I have read the last book of the Bible. I can be strong in Jesus because I'm going to win."
He encouraged those present who didn't have that assurance to do so.
"So, it's time to make a decision," he challenged. "It's time to make a stand for Jesus."