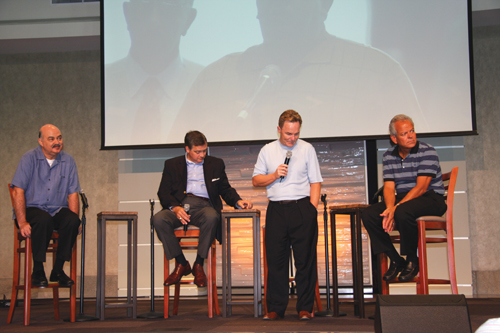 ROGERS, Ark.—"It is our commitment, first of all, to reveal the honest and true status of this denomination." With those words, Ronnie Floyd, chairman of the Southern Baptist Convention's Great Commission Resurgence Task Force, welcomed more than 500 participants to an Aug. 26 luncheon where he and three other members of the panel made statements and then fielded questions from the audience of pastors, directors of missions and laymen.
Gathered at the Church at Pinnacle Hills campus of Springdale, Ark., First, where he is senior pastor, Floyd emphasized the need for Southern Baptists to unify around prayer as the task force undertakes its mission. The group, which met in closed session Aug. 26-27 following the luncheon, is mandated to present a report to Messengers to the 2010 annual SBC meeting in Orlando.
Floyd was pleased to report that, as the luncheon began, more than 3,200 Southern Baptists had already signed up on the Pray4GCR.com Web site. During the luncheon, almost 300 more people vowed to pray for the effort by signing pledge cards to do so.
Joining Floyd in sharing their vision for a Great Commission Resurgence and fielding questions were Johnny Hunt, SBC president and pastor of First Church in Woodstock, Ga., near Atlanta; R. Albert Mohler Jr., president of Southern Seminary in Louisville, Ky. and Al Gilbert, pastor of Winston-Salem, N.C., Calvary, who previously served five years with the International Mission Board.
Floyd acknowledged a decline in membership and baptisms in Southern Baptist churches in the United States, and bemoaned the fact that Baptists are "losing ground with American culture every day. We have more money than we've ever had, more resources than we've ever had, and we are doing less with it to reach the lost, unchurched people of America."
Floyd said he wants to see Southern Baptists "return this denomination to the primacy of the local church," and "reestablish the centrality of the local church."
Hunt said the Great Commission Resurgence is very personal to him and begins in his own life.
"How am I personally responding to a Great Commission Resurgence in my own life?" Hunt said. "Am I committed to sharing Christ?"
Second, Hunt said, he "desires to help lead our denomination to embrace in the greatest degree ever over the lostness of the world. I would like to see us get serious about what we have to do to get more money to lostness."
Hunt's closed with a plea for the Convention to emphasize church planting in the "major metropolitan areas of this country. We need to move there in big ways."
Looking to the next annual meeting, Hunt predicted that 18,000 Messengers would go to Orlando, and that 10,000 would be involved in Crossover, the yearly pre-meeting evangelistic effort.
"If you are going to be serious about the Great Commission, plead with your people to pray," Hunt said. "Get your people there and get them to praying."
Mohler said he has been a Southern Baptist since he was in his mother's womb.
"I was a fetal Southern Baptist," he said, contending that church was a "full body, full week" experience.
"I thank God that Southern Baptists have been used by the Lord for so many years in so many ways," Mohler said. "I would not be where I am today doing what the Lord allowed me to do were it not for the faithfulness of millions of Southern Baptists."
Explaining how Southern Baptists historically worked to support missions, Mohler said in 1845, "eliciting, combining and directing our energies toward the accomplishment of the Great Commission" is why the Southern Baptist Convention was created.
"It had better be the same thing today," he stressed.
But, Mohler said the Convention has become too comfortable.
"We as Southern Baptists have taken comfort in our statistics, we have taken comfort in our bigness, we have taken comfort in the way we do things together because they are very comfortable to us," he said.
Mohler said it's important to ask what's happened to the denomination between its creation in 1845 and today.
"Are we really eliciting, combining and directing energies of our churches to the accomplishment of the Great Commission?" he asked.
In the Q&A session, which became intense at times, topics centered on the make-up of the task force itself, the level of giving to the Cooperative Program by the churches represented by the members of the task force and, the role of the local associations in the wake of the task force's recommendations and reports that combining the North American and International mission boards was being considered.
Two questioners specifically asked why pastors from smaller churches were not represented on the task force, while several others questioned the level of CP giving by the task force members' churches.
Buddy Hunt, pastor of Tahlequah, First, was one of two pastors who asked about the proposal of either doing away with NAMB or merging the two missions entities. He voiced a concern that such a move would "deemphasize church planting and evangelism in America."
Johnny Hunt responded that such discussions had not originated within the task force and he lashed out at "poor journalism" that has allowed "reporting that we may be attempting to disassemble NAMB. That is an issue that is unrelated to this task force."
The Convention's president also urged everyone to examine how many dollars a church gives to the CP and not its percentage.
"If a church is continuing to give more and more to the Cooperative Program, can that be celebrated or can it only be celebrated if it's 10 percent?" he asked.
The bottom line, Hunt said, is, "I challenge our leaders to get the dollars to the pockets of lostness."
As to the task force's make-up, Hunt said he chose leaders from a wide range of churches, including two pastors from smaller churches. "One is the pastor of a church with about 300 members and another has about 70," he said.
Floyd said the task force's overarching goal is to "bring to the SBC in Orlando a recommendation of, together, how we can faithfully and effectively fulfill the Great Commission around the world."
The group's next meeting is set Oct. 27 in Dallas at an as-yet undetermined location.