EDMOND – The 112th Annual Meeting of the Baptist General Convention of Oklahoma (BGCO) will take place at Edmond, First, Nov. 12-13. The meeting will feature various times of business, fellowship and worship, under the theme "To Him Be the GLORY in the Church," based on Eph. 3:20-21.
The Oklahoma Pastors' Conference and Missions Celebration will commence prior to the BGCO Annual Meeting. Both events begin at 9 a.m. on Mon., Nov. 12.
The BGCO Women's Ministry will host Missions Celebration, an annual event focusing on what God is doing through missions. Keynote speakers include Kari Shank and Courtney Bullard. Worship through music will be led by Teresa Harmening. For more information, visit www.bgcowomen.org/missions-celebration.
The Pastors' Conference also will begin at 9 a.m. on Monday. Southern Baptist Convention President J.D. Greear is a featured speaker, along with Roc Collins, LeRoy Fountain, Johnny Montgomery and LeRon West. For more information, visit www.bgco.org/ministries/leadership/pastors-conference.
The opening session for the BGCO Annual Meeting begins at 6:15 p.m., Mon., Nov. 12 with pre-session music by the Singing Churchmen. BGCO President Joe Ligon will preside over the first session, which will feature the installation of Hance Dilbeck as BGCO executive director-treasurer.
The second session begins at 9:15 a.m., Tues., Nov. 13. BGCO First Vice President Mike Keahbone will preside, and the session will feature election of new officers as well as Ligon's presidential address.
The final session begins at 1:15 p.m., Tues., Nov. 13, with BGCO Second Vice President Steve Dennis presiding. The session will feature other business and the annual sermon delivered by Keith Wiginton, pastor of Claremore, First.
On Tues. evening, following the BGCO Annual Meeting, "The Gospel, the Church and Foster Care" rally will begin at 6:30 p.m. This equipping event will feature a panel of speakers, as well as a special demonstration involving the life of a foster child. Russell Moore, president of the Ethics and Religious Liberty Commission of the Southern Baptist Convention will be the keynote speaker. For more information, visit www.bgco.org/foster.
Further information on all events relating to the BGCO Annual Meeting can be found at www.bgco.org/annualmeeting.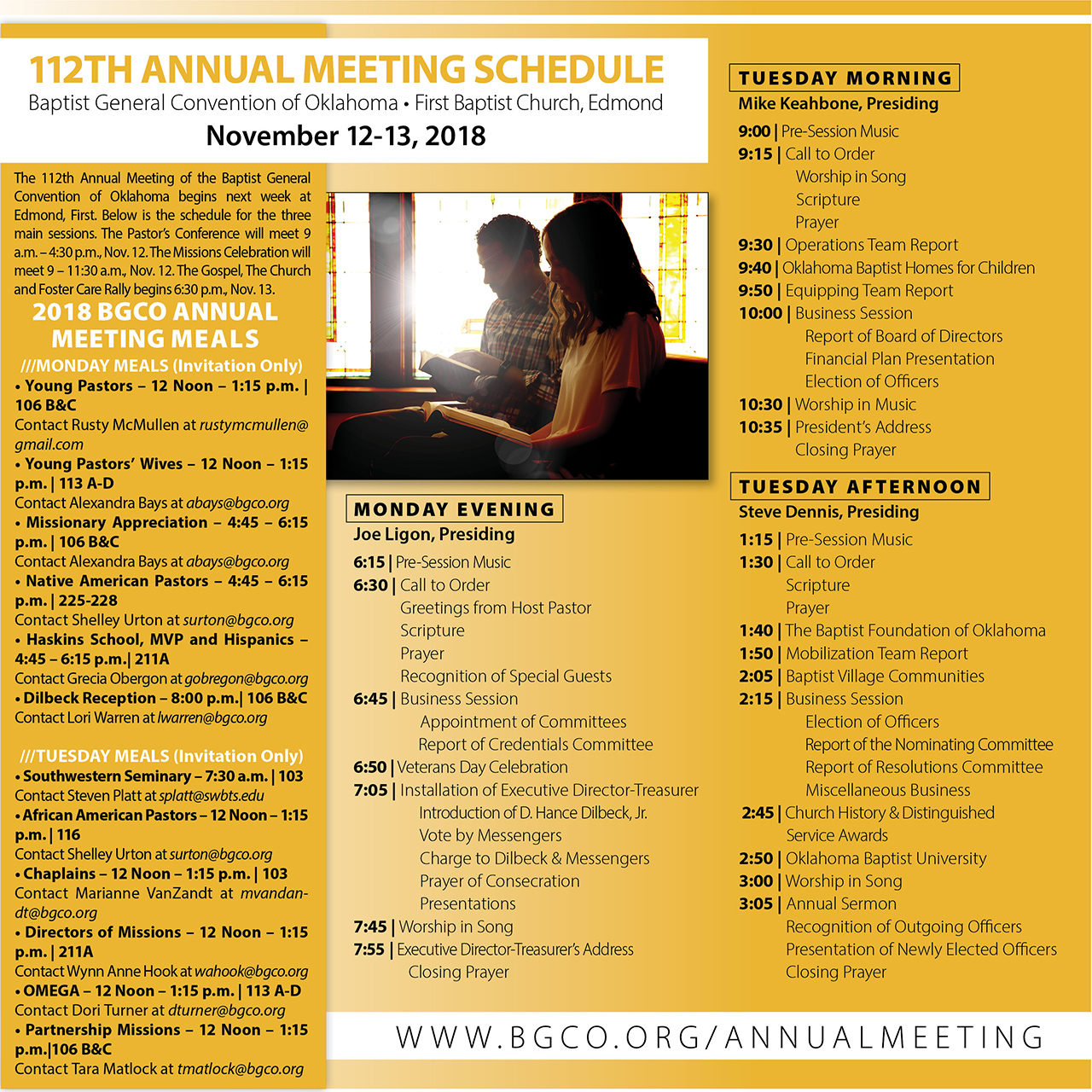 CONVENTION COMMITTEES
The following persons were appointed to serve on various committees for the 112th Annual Meeting at Edmond, First.
Credentials Committee
Andy Finch, chairman, Choctaw, First; Rick Boyne, Wagoner, Immanuel Southern; Brian Holland, Waynoka, First; Jason Langley, Marietta, First; Steve Lewis, Tulsa, Parkview; Will Wilson, Tecumseh, New Hope; Trent Young, Comanche, Patterson Avenue
Nominating Committee
Keith Wiginton, chairman, Claremore, First; Dewayne Davis, Weleetka, First; Eli Gardner, Mannford, Lakeside; Jennifer Griffin, Oklahoma City, Quail Springs; Griff Henderson, Edmond, Waterloo Road; Scott Hill, Grove, Elk River; Buddy Hunt, Tahlequah, First; Rob Lindley, Oklahoma City, Northwest; French McLemore, Ponca City, First; Johnny Montgomery, Red Oak, First; Zach Potts, Loco, First; Danny Ringer, Elk City, First; Andy Taylor, Broken Arrow, Arrow Heights; Shelly Watkins, Kingfisher, First; Lance Whaley, Davis, First
Resolutions Committee
Douglas Melton, chairman, Oklahoma City, Southern Hills; Bobby Kelly, Shawnee, Immanuel; Brent Parsons, Norman, Franklin; Eric Costanzo, Tulsa, South Tulsa; Nick Atyia, Seminole, First; Michael Staton, Mustang, First; LeRon West, Tulsa, Gilcrease Hills
Tellers Committee
Kevin Baker, chairman, Altus, Martha Road; Jeff Berger, Stigler, Main Street; Rick Gettens, Lawton, Mind of Christ; Patrick Latham, Lawton, First; Danny Ringer, Elk City, First; Heath Tucker, Skiatook, First; Cameron Whaley, Yukon, Canadian Valley; Robert Wilson, Ardmore, First