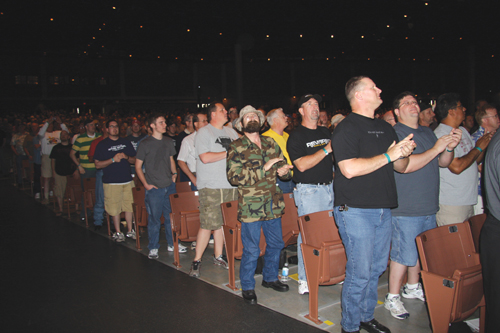 Although some 2,500 men officially registered for the Rewired Men's Retreat at the Falls Creek Baptist Conference Center near here April 24-25, it seemed as if twice that many shouted praises to God during two general sessions in the tabernacle and drew insights from nine featured venue leaders during the two-day event.
The annual weekend retreat is designed to challenge and encourage men to have an encounter with God through adventure, worship and interactive teaching in an atmosphere that promotes relationships with other men while learning spiritual truths that can be applied at work and home.
Featured speakers included NASCAR sponsor and chairman of Interstate Batteries, Norm Miller, Friday evening, and men's ministry communicator and Texas A&M football team chaplain, Rick Rigsby, Saturday morning. Worship leader was Matt Roberson.
The theme for the retreat was "Rewired," focusing on Col. 3:17, "And whatever you do, whether in word or deed, do it all in the name of the Lord Jesus, giving thanks to God the Father through Him." (NIV).
A special feature of the retreat this year was the introduction of a study titled, Compass, Finding Your Life's Direction, based on the teachings of Doyle Pryor, pastor of Sapulpa, First, who introduced the concept to the men Friday evening.
Each registrant received a copy of the 72-page, leather-look booklet, which was printed in partnership with the Baptist General Convention of Oklahoma and funded through Oklahoma Baptists' gifts through the Cooperative Program. Each church represented also received a DVD that contained 10 sermon outlines that paralleled the content of the booklet. And, each man who attended had the opportunity to purchase to additional copies to take home and share with two other men after the retreat.
The point of the study is that Jesus is the True North of life.
"All of us have a compass in our hearts. And our compass is always pointing true north," Pryor said in the introduction to the study. "That is the direction our heart and soul wants to go. It is the yearned for direction whether we know it or not. When we travel north our life seems to be at peace and there is harmonic convergence in our soul, even if on the outside everything seems to be going to Hell . . . ."
The study discusses eight compass points, with Jesus Christ as True North. The other seven are South-The Word; East-Fellowship; West-Witnessing; Northeast-Prayer; Southeast-Community; Southwest-Finances and Northwest-Serving and how they relate to Christ as True North.
Miller, 70, heads a business that sold 15.9 million batteries in the last 12 months, representing the number one brand in the United States, having been so since 1992. The Memphis, Tenn. native shared how he lived a life of alcohol and rebellion, taking his cue from his father, who ran a service station on Post Office St. in Galveston, Texas in a neighborhood filled with liquor by the drink, gambling and prostitution.
"I ended up drinking at age 14, and my goal in life was fun," he exclaimed.
School was of secondary importance.
"I was an excellent student if you went by tenure," Miller laughed. "But, as high school graduation neared, I set some goals: a job that made me good money, a wife, a house, cars, travel and kids—one of each.
"By age 35, I had reached my goals, but there was something missing. I remember sitting by the big hole in my backyard where we were building a swimming pool, drinking, and two songs came to my mind, 'What's it all about Alfie?' and 'Stop the World I Want to Get Off.'"
After losing his driver's license when he was stopped for driving under the influence, Miller said he realized he was losing control of his life.
"I said, 'God help me, I can't handle it.' Everything (I did) revolved around drinking. And God helped me."
Finally, a friend told Miller he needed to start reading the Bible, which he did. But, that wasn't enough, he felt, and he began to investigate the Scriptures' validity.
I looked at three things," Miller said. "Archeology, antique manuscripts and fulfilled prophecy. My findings convinced me that the Bible is true, and one night I prayed to receive Christ."
Miller said two things happened right away when he confessed his sin and received Christ.
"First, my fear of failure went away, and an ability to love others came right in," he confessed. "Today, I try to love people every day, and I tell you tonight, men, I love you."
Rigsby, who told the men Saturday morning that he had wasted 30 years of his life as a television news reporter, said "The number one casualty in an entertainment crazed society is truth!"
He asked the men, "Are you growing in Christ? Are you making an impact on the world, or simply trying to impress men with your life?"
He made three points: our knowledge determines our love for God, our love determines our obedience to God and our obedience shapes our experiences with God.
"Unfortunately, the average Christian man reads his Bible less that one hour per year," Rigsby stated, drawing audible groans from the audience.
He said we're great at putting on a false face on Sunday.
"Ego is the anesthesia that deadens the pain of stupidity," he declared . . . . "we'll spend four hours on Saturday cleaning up the car to drive to church on Sunday and only four minutes on Scripture during the week!"
Rigsby bemoaned the fractionalization of society.
"We've lost the value of helping one another in one generation," he declared. "Spurgeon said, 'Carve your name on hearts, not on marble.'"
Rigsby shared his darkest days when "God stopped speaking to me."
He had become a highly successful TV personality, had a big house, expensive suits, a beautiful wife and children. But, his wife got breast cancer and died six years later.
'What are you waiting for to get real with God?" he asked the men. "Are you waiting for God to strip you of your most precious thing?"
Rigsby said he realized in the midst of his grief that he needed to repent, and he marvels today, wondering, "how the worst thing to happen to me could be the best thing to ever happen to me."