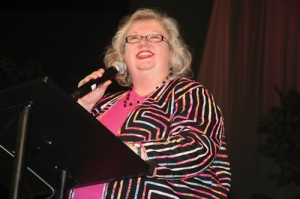 DAVIS—The excitement was high as more than 2,000 women from 313 churches gathered to 'Embrace Grace' during the 2009 Oklahoma Ladies Retreat at Falls Creek Baptist Conference Center April 3-4. After showing a hilarious video of how "Not to Embrace Grace," Kelly King, women's missions & ministries specialist for the BGCO and coordinator for the retreat, kicked off this year's event by challenging women's to "discover ways God wants you to 'Embrace Grace.'"
Matt Robertson and his band started things off with praise as they united women young and old through worship during this high impact weekend.
This year's schedule took on a new look as the retreat offered opportunities to participate in events all day on Friday. Women attended breakout sessions on topics ranging from organized chaos to battling stress to cleaning up your home . . . and your heart. A hands-on prayer room was also available for women to post prayers or gather to pray for others' needs.
An added feature to this year's retreat was an outdoor activity called the Amazing "gRace." Fifty-eight teams of women challenged one another Friday afternoon all across the campground as they hunted for clues, performed valiant tasks and completed the race.
The Annie Moses Band provided special music throughout the weekend and a Friday night concert for the ladies to attend. The classically trained music group comprised of mother, father and six children ministered to women through their testimonies and music.
Robin Wolaver, mother to the Annie Moses Band, spoke to the women at the Friday morning session about leaving a legacy. Wolaver challenged women to use their "motherly instinct" to impact the Kingdom.
Jen Hatmaker, author and speaker from Austin, Texas, led breakout sessions on the Modern Girls Guide to Bible Study. In addition she was the guest speaker for the Saturday morning general session, where she told women "it's time we take off our religious girdle, because it is simply fake." Hatmaker explained how "our fake religion has caused millions to leave the church and we aren't reaching the next generation."
Teaching from Isaiah 58, she said, "we spend time doing things that make us feel good about ourselves, but God does not endorse something just because His name is on it."
She encouraged women to abandon fake religion and become part of a "barefoot church" who gives God everything they have including the shoes on their feet. Hatmaker also will be the featured speaker at the 2010 Oklahoma Ladies Retreat, April 16-17.
Each year, the ladies retreat hosts an offering to support a ministry in need. This year, the ladies collected almost $10,000, which will help provide scholarships to employees of the Baptist Village Centers who are furthering their education in the nursing field.
Echos of laughter filled the tabernacle as women heard from renowned author and featured speaker Liz Curtis Higgs. Higgs, known for her adept ability to connect with audiences, her bubbly personality and her humor, captivated women as she shared her personal testimony and encouraged them to 'Embrace Grace.'
Higgs greeted retreat attendees with a huge smile and an exclamation, "You are God's definition of beautiful!"
Drawing from Zephaniah 3 she said "God takes delight in you, He quiets you with His love, and He rejoices over you with singing. If God rejoices over you, what song does He sing?"
And with that she broke out in song, singing the 1970's hit, recorded by Joe Cocker, "You are so beautiful to me, can't you see?" A spirit of serenity fell over the crowd as she modified the lyrics from the old tune and sang, "You're everything I died for, I'm everything you need, you are so beautiful to Me."
Higgs challenged women to embrace grace through their thoughts.
"When you wake up, look in the mirror and say TA DA! There is no way you can say TA DA! with a frown. Take a moment to remember that you are made in God's image . . . and that makes you beautiful."
She continued, "we can't base our opinions off of feelings; feelings change. You don't need to feel good about God, you need to believe," she said.
Referring to the woman who had been bleeding for 12 years in Mark 5, Higgs told women, "when you are ready for God, He is ready for you."
She said the woman came to Jesus because of her great faith; she didn't worry about what the world thought of her, she just needed a healer.
"The woman didn't just feel good about meeting the Savior, she believed she could be healed, and she was," Higgs explained.
"Hebrews says 'faith is being sure of what we hope for and certain of what we do not see.' Don't confuse faith with feelings," she said. "Before you even came into this world and started sinning, grace was in place."
Higgs presented a message of encouragement through her explanation of accepting God's gift of forgiveness and releasing doubts, fears and regrets.
Referring to the passage in John 8 where an adulteress was brought before Jesus, Higgs told women, "we can't embrace grace that we don't even accept." Higgs explained that the adulteress knew she was in sin and probably thought her life was over.
She went on to say that "under Mosaic Law, the sin of adultery was punishable by stoning the accused. But God is so good," she commented. "You know the story, no one threw a stone, because they were sinners, too," she said. "The enemy throws stones at us every day to try and make us think we are no good. When that happens, we just send him home and say my Redeemer lives."
Higgs concluded by admitting that her least favorite part about speaking to groups is telling them good-bye. But she promised that when her earthly ministry is complete, "I'll come to the Oklahoma corner of Heaven."