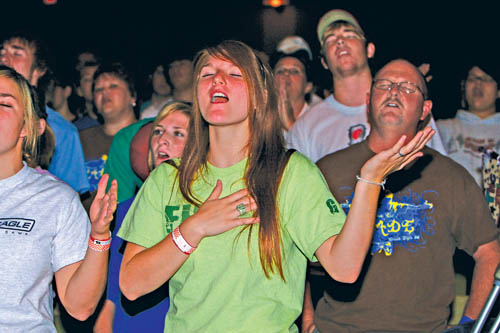 Falls Creek Baptist Conference Center received a $1 million gift from an Oklahoma Baptist family in February, announced Anthony L. Jordan, BGCO executive director-treasurer.
"This gift, the second $1 million gift received in the past three months, will be used to reduce the construction debt," Jordan said during the announcement. This, and the previous gift, were given by different families.
"God has blessed this family, and they in turn will bless generations of Oklahomans through this gift," Jordan continued.
The family desires to remain anonymous, but issued a statement outlining several factors influencing them to make the gift. One factor is the wife's attendance at Falls Creek as a teenager in the 1980's, which she described as a time of ". . . learning about God . . . how to live the Christian life. It was so amazing."
Although heavily involved in global missions, the family had been ". . . really thinking we should be involved in the opportunities right here in Oklahoma."
The family attended the 2007 Falls Creek tabernacle dedication, where Jerry Rankin, president of the International Mission Board of the Southern Baptist Convention, mentioned there were more SBC missionaries on the field who surrendered at Falls Creek than any other single place on Earth. In addition to world-wide mission projects, the family is heavily involved in local projects impacting the lost through their home church.
Citing strong feelings that ". . . the best way to reach Oklahoma families for Christ is to reach out and love on their children. Falls Creek is the best opportunity we know of to reach Oklahoma children and families," read the family's statement.
More than 65,000 children, teenagers and sponsors attended camps at Falls Creek last summer.
Other influencing factors were the significant physical changes at Falls Creek, including the new Tabernacle, center for world missions, prayer plaza, security upgrades and Jordan. We "have been so encouraged by Dr. Jordan's lifetime commitment to Falls Creek," the statement concluded.
The immediate impact of the gift will be to reduce the amount remaining to be raised on the $34 million tabernacle and infrastructure construction project.
"Because of this gift, only slightly more than $3.7 million is still needed to completely fund what has been achieved at Falls Creek over the past eight years," said Steve Thomas, BGCO stewardship advancement director.
Oklahoma Baptists, youth groups and "others from outside Oklahoma continue to faithfully pay on their pledge balances," said Thomas.
He anticipates the majority of the outstanding pledges amounting to about $2 million will be paid in full by "year's end." More than 8,600 individuals, families, churches, foundations and corporations from Oklahoma and several other states have participated in the campaign to date.
Falls Creek will host "Embrace Grace," the 2009 BGCO Women's retreat on April 3 and 4, and "Rewired," the BGCO Men's retreat on April 24-25. More than 5,000 adults are expected to attend these events.