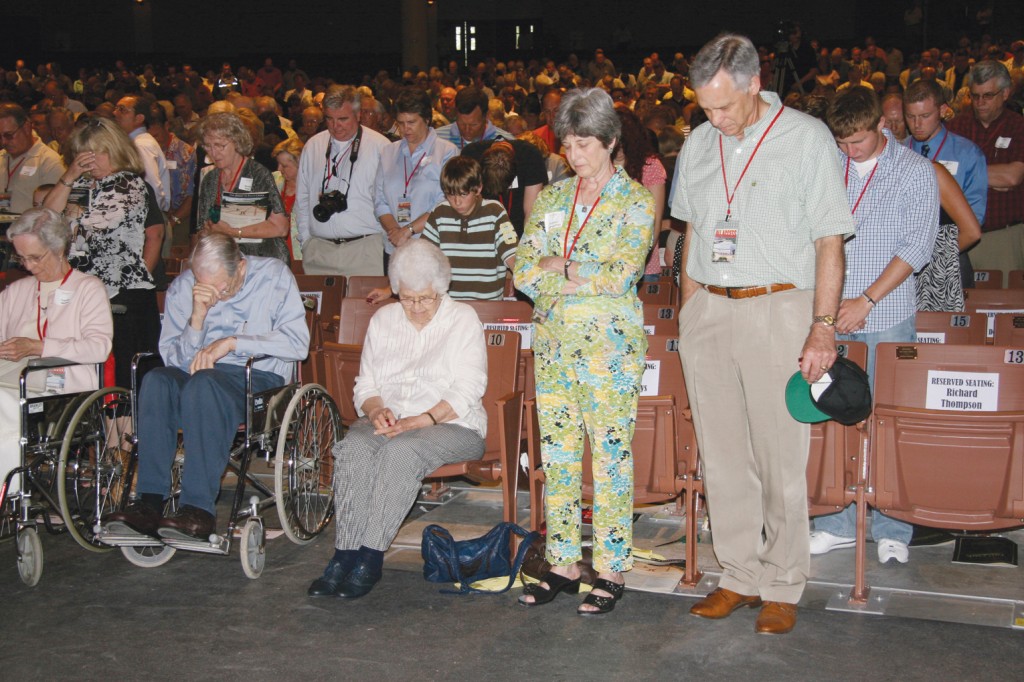 For the past eight years, Anthony L. Jordan, as well as others, has traveled the state securing funds for the new Falls Creek Tabernacle. In doing so, he has sacrificed a lot of family time.
During Tabernacle dedication services on May 26, Jordan, executive director-treasurer of the Baptist General Convention of Oklahoma, revealed that his then teenage daughter, Alisha, came to him many times as he was leaving home, asking, "Daddy are you leaving again?" Daddy, is it Falls Creek again?" "Daddy, I miss you."
Jordan pointed out that a lot of sacrifices of both time and money have gone into the building of the new ministry facility that graces the center of the 300-acre campgrounds in the Arbuckle Mountains.
Speaking from Proverbs 22:28, "Remove not the ancient landmark, which thy fathers have set," Jordan said buildings and methods have changed over the years, but some things at Falls Creek will never change.
"In reality, Falls Creek has been ever changing," he said. "We once met under trees for classes, then in little pavilions, then in cabins. The first attendees met under a tent, then the Tripp Pavilion, then the old tabernacle as we knew it. The way we've sung our songs and the songs we've sung have changed. But as the head of Oklahoma Baptists, I want to make a commitment. We didn't build this building to change truths."
Jordan listed four things that will never change.
One, he said, is lost people will always be welcomed in this place.
"Falls Creek's gates have been open to all, those with different color clothes, rings in their noses and other places we won't discuss," he said. "From small towns and big cities, some who have never been in church before; Falls Creek will now and forevermore throw open its gates that every lost sheep may come in and hear the Gospel of Jesus Christ."
Secondly, we don't bring them here to give them the latest philosophical arguments for God; we just give them Jesus," he emphasized. "At Falls Creek, the boundaries of Jesus will never move."
Third, "we will preach and challenge them to yield their lives to a loving Savior so they are not conformed to this world," he said. "We will challenge them to live holy and transformed lives for Jesus."
And finally, Jordan said Falls Creek will always be a place where the voice of God is made clear by the Word of God so people may hear His call upon their lives to missions and ministry.
"At age 14, under the old tabernacle, a little, fat, red-haired boy from Skiatook heard the voice of God," he recalled. "I remember saying, 'here am I, send me.'"
Jordan revealed that after a Falls Creek service just a few years ago, his daughter, who is now in college, went back to her cabin and told her counselor she sensed God calling her to missions.
"Just this morning, her mother and I put her on a plane to Australia where she will do summer mission work," he said. "We brought her down to see the Tabernacle a few days ago because we knew she wouldn't be able to be here today."
Jordan said he recalled all the times the Falls Creek tabernacle project kept him away from her, but he said, "Just a few minutes ago, I got a text message from her. She said, "Daddy, tell them it was worth it."