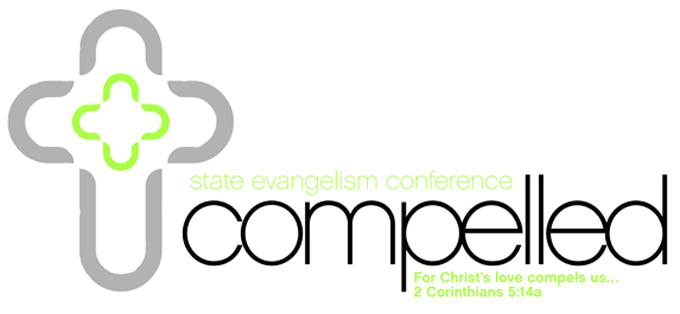 "Compelled" is the theme of the 2007 State Evangelism Conference, which will feature three vocational evangelists, two pastors, a state director of evangelism and musical artists.
The meeting, Jan. 29-30 at Edmond, First, 1300 S.E. 33rd St., isn't just for preachers, emphasized Alan Quigley, Baptist General Convention of Oklahoma evangelism specialist.
"This isn't just a preachers' conference," said Quigley. "We need laity to come and be encouraged."
Quigley is asking however, that churches be aware of the need for their pastors to attend the conference, and is encouraging church bodies to pay the way for their pastors.
The BGCO is bringing in all bivocational pastors in the state, Quigley said, and will pay their mileage and for their meals. Any bivocational pastor coming more than 100 miles will be reimbursed for a night's motel lodging.
"We are presenting a special evangelism strategy for bivocational pastors," noted Quigley. "'A.L.O.N.E.' will be taught by Sammy Gilbreath, evangelism director for Alabama Baptists."
Quigley said Gilbreath, who has a rare heart disease, which could cause his death at any moment, will also preach to the conference on "Live Like You're Dying."
Other speakers will include vocational evangelists Rick Ousley, Junior Hill and Jon Randles; pastors Johnny Hunt, First Church, Woodstock, Ga.; and Bobby Welch, pastor emeritus of First Church, Daytona, Fla., organizer of F.A.I.T.H. Sunday School evangelism and past president of the Southern Baptist Convention.
Musical artists will include Kristy Starling, recording artist from Edmond, who was runner-up on NBC's Today Show's version of "American Idol," and Master's Voice, Oklahoma vocational evangelists.
Quigley said "Compelled" was chosen as this year's theme to "motivate us to do the work God has called us to do."
"The thing that compelled Paul was the love of Christ," Quigley pointed out. "He endured the hardship of dealing with religious issues and personal suffering to take the Gospel to the world.
"Session one will compel us to care for the lost," Quigley continued. "Session two will show us if we really care for the lost, we have to cultivate relationships. Session three will compel us to champion the Gospel, and session four will compel us to celebrate Christ. The theme follows the natural movement of evangelism in a person's life."
Other activities will include a banquet for bivocational pastors and their wives on Tuesday night, a women's session on Tuesday morning (see next week's Messenger for details), seminar sessions on Tuesday morning and a vocational evangelists' session (see story at right).
In addition, two Lifetime Achievement in Evangelism awards and four Faithful Sowers awards will be presented.
The conference begins with the vocational evangelists' session at 9:30 a.m. Monday, and continues with sessions at 1:30 and 6:10 p.m. Monday and 9 a.m., 1:30 and 6:30 p.m. Tuesday.
Evangelists to kick-off State Evangelism Conference
Oklahoma's vocational evangelists will kick-off the 2007 State Evangelism Conference at Edmond, First with a session beginning at 9:30 a.m. Monday, Jan. 29.
Preaching for the Conference of Southern Baptist Evangelists will be three evangelists with a cumulative total of 102 years in the ministry. Jack Smith will preach at 9:45; Bob Shoemake at 10:30, and Wayne Bristow at 11:15. Evangelistic musicians on the program will include The Allens, B.J. Hall, Sandy Stacy, YoYo Collins and Karen Rotert.
In addition, there will be an "Afterglow," featuring the evangelists after the Monday evening session.
In the past, the evangelists have hosted a snack room with free refreshments. However, this year, theirs will be the only snack shop available, but there will be a charge for the food and drink items. Proceeds will go to purchase chairs in the new Falls Creek tabernacle in honor of vocational evangelists and to send evangelists to Utah-Idaho for the 2008 simultaneous revivals to be conducted there.