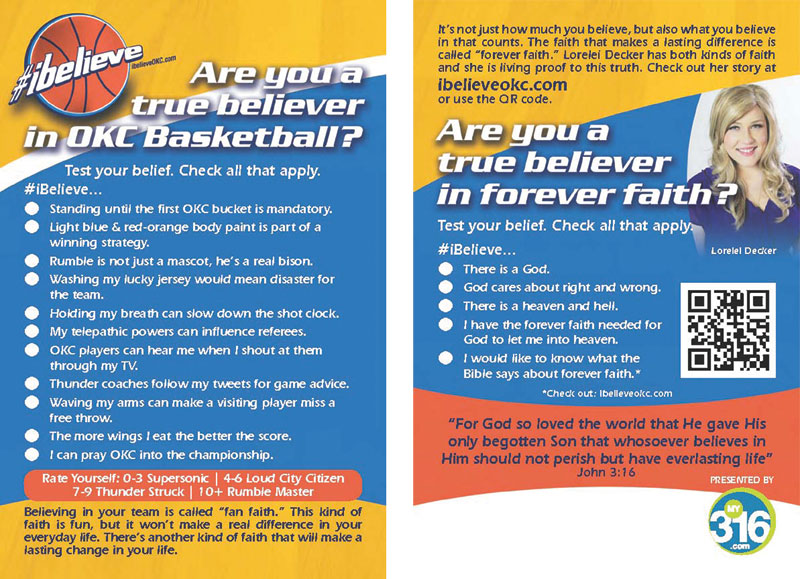 Avid readers of the Baptist Messenger should be familiar with Lorelei Decker. Last year, her story was featured in the May 17, 2012 edition about how she considers her battle with Refractory Hodgkin's Lymphoma as an opportunity for ministry.
Now, the 19-year-old is the spokesperson for the ibelieve campaign, which is running in correlation with the Oklahoma City Thunder's pursuit of a world championship title during the NBA Playoffs. Decker, a member at Oklahoma City, Cherokee Hills, has been adopted by the Thunder as an honorary coach.
The ibelieve campaign offers a three-fold witnessing strategy that Christians in Oklahoma can adopt while the NBA Playoffs are happening in Oklahoma City:
Tap into state-wide excitement of Thunder basketball. Many Oklahomans believe the Thunder will go all the way to the NBA Finals.
Explain that you believe also. You have "fan faith," but you also have "Forever Faith."
Share what you believe about Forever Faith in Jesus Christ. Give out ibelieve witnessing cards. Direct people to the ibelieve website to view Decker's ibelieve story.
The ibelieve website address is ibelieveOKC.com. You can retrieve it through the QR code featured on this page. The website features the ibelieve witnessing strategy and ibelieve watch party suggestions that can be downloaded at www.ibelieveokc.com/resources.
The ibelieve witnessing cards can be ordered or picked up at the Capital Association office, 2233 I-44 Service Rd., Oklahoma City, 73112,3 or by calling 405/942-0244.
"Many times, we apply great effort and spend lots of money to get people's attention to share the Gospel with them," said Tim Gentry, BGCO evangelism specialist. "This opportunity has been dropped into our laps by the Lord. Everyone wants to talk about what they believe about the Thunder. The ibelieve strategy is so simple that the only ingredient needed is obedience. Simply join a conversation about the Thunder. Then share your 'fan faith' in the Thunder and your 'Forever Faith' in the Lord."