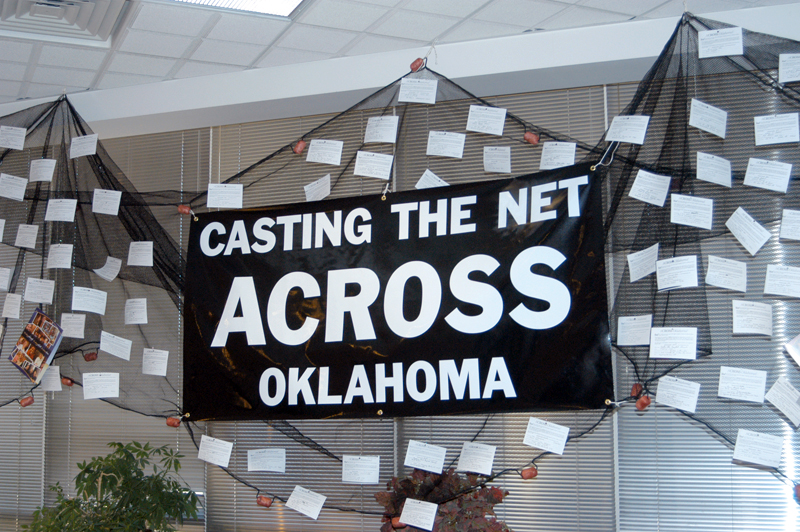 On March 31, Oklahoma Baptists will participate in the largest-ever sowing of the Gospel in the state called ACROSS Oklahoma. The campaign to put the Gospel on the doors of more than 100,000 homes across the state will begin with television commercials which will start airing March 15 on TV stations in Tulsa, Oklahoma City, Ardmore, Lawton and Fort Smith, Ark., as well as cable stations in the Panhandle.
"We're estimating it takes two weeks for the commercial to get noticed," said Alan Quigley, evangelism specialist for the Baptist General Convention of Oklahoma. "Then households are hit with a secondary source, the door hangers. It takes two weeks for people to take action, and that will be Easter Sunday, and that's what we want to do- bring people to hear the Word of God on Easter.
The goal of the gospel sweep, Quigley said, is not to engage people one-on-one, but to simply give them an invitation to attend church. It is based on Psalm 126: 6, which says "He that goes forth and weeps bearing precious seed, shall doubtless come again with rejoicing, bringing his sheaves with him."
"What we are doing is broadcasting the seed," Quigley pointed out. "This strategy ties everything to the local church and draws attention to the local congregation rather than the larger body of Southern Baptists."
Churches have received a sample packet containing a DVD with the TV commercial, all of the printed material options and a radio spot. The BGCO will provide clear bags to hang on doors which will have in them a printed piece with a message from BGCO Executive Director-Treasurer Anthony L. Jordan, the CROSS evangelism tract and the offer of a free book, The Most Important Thing, which will encourage Christian growth and information about the www.OklahomaLife.com Web site. Churches may add information about their ministries or whatever else they would like to include. In addition, churches have the option to buy billboards, put out yard signs, do radio spots or other types of advertising.
"Today, there are more unchurched and unsaved Oklahomans than at any time in our 100-year history," said Jordan. "The ACROSS Oklahoma emphasis takes us to the streets to touch tens of thousands of Oklahomans with an invitation to return to church on Easter. I am overwhelmed with the response thus far of our churches and associations in committing to hit the streets on March 31. With the television commercials running at the same time, I believe we will see tremendous results. I am proud of Alan Quigley and our Evangelism Group for challenging all of us to follow the Good Shepherd in seeking after the one lost sheep. We join Jesus in His mission of seeking and saving the lost."
Quigley said he's heard of several churches working together to make a bigger impact.
In Stillwater, three pastors discovered they could distribute 80,000 pieces of literature in 20 minutes by following the city's paper routes.
"They said, 'if the Stillwater paper can deliver the news every day, we can spend one day delivering the Good News, following paper routes,'" Quigley reported.
Kay Association has organized a campaign with churches in the association participating in additional media and yard signs.
Forgan, First has developed a two-month strategy around going door-to-door March 31.
Two pastors in the Panhandle are negotiating to buy additional spots on cable stations.
And Oklahoma Baptists' partnership states of Utah-Idaho are planning a crossover event that day, attempting to reach 30,000 homes.
Gibson Largent, former youth minister at Oklahoma City, Northwest, now attending Southern Seminary, has challenged students there to make 10,000 evangelistic contacts this semester. Largent will drive to Oklahoma to participate in the distribution event here.
Chris Forbes, BGCO evangelism strategist, said in his research to find out why people don't go to church, he discovered most believe they have a relationship to God.
"They said they don't have time for church, but they do miss relationships church provides," he said. "And one-fourth of those surveyed said they would attend a Baptist church, so this campaign has a lot of potential."
"This is intended to be a springboard for an opportunity to present the Gospel," said Quigley. "The whole thing is for the purpose of impacting lostness in our state."