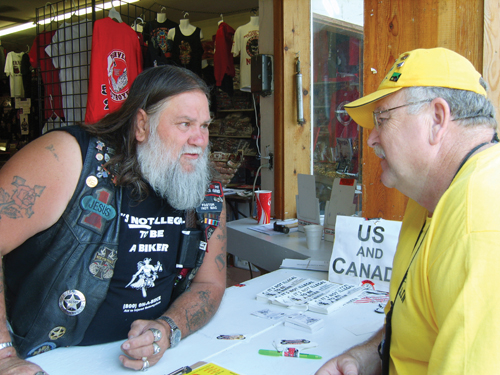 More than 50 Oklahoma chaplains trained specifically to minister to the biker community will do just that during the annual Sturgis Motorcycle Rally, Aug. 3-9 in South Dakota.
This year marks the third in a row that chaplains from the Sooner State have traveled to minister to those attending the annual rally, now in its 69th year. The event drew an attendance of 414,917 last year, and resulted in taxable sales of $10.4 million, according to official statistics.
The Oklahoma chaplains, some endorsed and some not, but all trained to minister to the biker community, will join more than 30 others from the Sturgis area. Don Hunter, pastor of Oklahoma City, Grand Boulevard, who has led the Oklahoma team to Sturgis annually, heads the effort. Hunter trained the Oklahoma contingent July 18, and will leave July 30 for Sturgis to conduct training there July 31-Aug. 1.
"That will include some local clergy, some folks already involved in biker ministries who want to help as a chaplain and some others," Hunter said.
"We were asked to expand what we were doing this year, so we're also doing chaplaincy in Custer, S.D. about 70 miles south of Sturgis and near Mt. Rushmore, the Crazy Horse Monument and Custer State Park."
Hunter said, as in the past, ministry will begin with vendors selling their wares in stores and booths in Sturgis.
"We'll start with the vendors, just like we did two years ago," he said. "However, this has really grown in the past two years, and now a lot of bikers visit with us. But, it always starts with the vendors, like it always has."
The majority of the chaplains from Oklahoma this year are members of F.A.I.T.H. Riders chapters in Southern Baptist churches, said Keith Burkhart, family & men's ministry specialist with the Baptist General Convention of Oklahoma. Burkhart coordinates the F.A.I.T.H. Riders ministry in the state and conducts commissioning services for each new chapter as it is formed.
Oklahoma now has 36 F.A.I.T.H. Riders chapters, with three more waiting to be commissioned, more than any other state, including Florida—where the ministry began—which has 25 chapters.
The bulk of Oklahoma's contingent leaves for Sturgis Aug. 1 and returns Aug. 9. The F.A.I.T.H. Riders will stay at a campground near Custer, and ride back and forth to Sturgis each day, Burkhart said.
While working as chaplains, F.A.I.T.H. Riders will not wear their chapter colors, but will don the chaplain's familiar yellow cap and T-shirt.
Endorsed chaplains will have a motorcycle emblem on the upper left front area of their shirt, while non-endorsed chaplains will have the words "chaplain associate" printed on theirs. Their work will include ministering to the vendors, sharing the Gospel in the Dakota Convention's evangelism tent and prayer walking.
"Most will be working two or three shifts in the tent and at least one day as a chaplain," Burkhart said. "Our last official duty will be at 6 p.m. each day. Then, we'll come back and have a debriefing and have devotions. On Wednesday night, we're going to gather for a special dinner and have music, and the youth minister at Miami, Liberty is going to bring his guitar. It's going to be a fun time."
Twenty-two F.A.I.T.H. Riders went to Sturgis last year, the group's first. "We more than doubled that this year with a lot more churches involved," Burkhart said, pointing out that participating churches include Ardmore, Trinity; Bethany, Council Road; Choctaw, First; Del City, First Southern; Edmond, First; Lawton, Cameron; Miami, Liberty; Mustang, Chisholm Heights; Mustang, First; Newalla, First; Pawhuska, First; Shawnee, Immanuel and Shawnee, Rock Creek.
Burkhart said the trip is not a BGCO-sponsored event.
"It's still about local church partnership missions. I don't want it to appear as a BGCO mission trip," he said. "Each of these churches are working together and we're partnering with the Dakota Convention. F.A.I.T.H. Riders are passionate about sharing Jesus Christ with the motorcycle community, and so this gives them the opportunity to go and impact that culture.
"It also helps them learn about the culture, because our people are just motorcycle enthusiasts, so it helps them learn about the biker culture and to come back with a renewed passion to win souls in our backyard."
Burkhart said God's work has been evident through the coordination of the trip.
"It's a blessing in how this has worked out," he said. "Don and I went up there in March to a pre-planning meeting, and he had been asked to have a greater role in chaplaincy there in Sturgis. But, as time passed, he realized that through different circumstances, no one who had been there with him before was going to be able to go this year who was trained. But as the Lord worked it out, now he has an army of more than 50 trained people to go with him and work as chaplains."