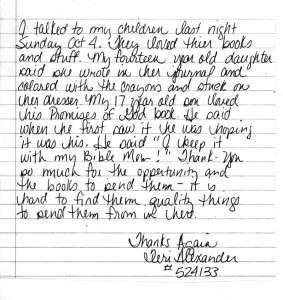 MCLOUD—Oklahoma has more women in prison than any other state—almost twice as many—and they are there longer and have harsher sentences, according to Polly Ward, who has been a volunteer at Mabel Bassett Correctional Center for more than 10 years.
Ward is working to reduce that statistic through several means, including literacy training, a calendar ministry and "Mommy and Me," which  helps offenders stay in touch with their children.
"It's not that women in Oklahoma are any worse than women in other states," explained Ward. "But here, if they are sentenced to 50 years, they have to serve 85 percent of that time without parole. And it costs the state $25,000 a year to incarcerate one person in Oklahoma."
Ward said Christians need to step up to the plate and do something about the number of offenders incarcerated at Mabel Bassett, and she believes one way to do that is to provide a chapel for the inmates.
Presently, all the ministries at the correctional facility take place in a room that accommodates only 40 people.
"We sometimes have 60-80 women cramming themselves in that room for Bible studies," said Ward. "We can't minister to more women if we don't have any place to do it.
Ward said plans for a chapel have already been approved, and all that is needed is funding. She added that a lot of the work and supplies have been donated already, including architectural plans by Glenn Short, the architect whose firm was responsible for the dome on the Oklahoma State Capitol Building, as well as soil testing, half the cost of a sprinkling system, electrical work, heat and air and roofing material.
Joe Wilson, domestic project coordinator for World Mission Builders, was recently involved in building a chapel at the Bill Johnson Correctional Center in Alva. He reported that in the first  eight months after the chapel was built, 190 inmates were saved.
At Eddie Warrior Correctional Center for women in Taft, a chapel resulted in 160 professions of faith in less than a year.
"Prison chapels fill a need, and they are successful," Wilson said. "There are lots of excellent curriculum for prisons, and there are lots of good volunteers. What greater thing is there than having visitation of the Gospel into prisons?"
Both Ward and Wilson said the goal is to communicate to prisoners that they have "hope on the way in and help on the way out."
"Reproductive, rehabilitated people will touch family members and others," explained Wilson. "We can't know what God can do with a multiplication process like that."
Ward said she has seen what can happen when women are presented with the Gospel in prison settings.
"We work with the women at Mabel Bassett to keep them in contact with their children," she said. "A child who has a parent not there is bitter and angry and sometimes turns that into getting into trouble with the law. We are there to diffuse that and show them their mother wants to be there for them."
She said very few of the mothers get to see their children unless they live nearby, so the Mommy and Me program is a way they can communicate with the children through reading a book to them. The children receive recordings of  their mother's voices and also a copy of the book to follow along.
Ward said she continually receives letters from the inmates telling her what the programs mean to them. She added that the chapel is a real need that has to be met.
"We can use any kind of volunteer help or contributions, including brick layers, sheetrock layers, painters, chairs—anything from door knobs to a steeple to a baptistry," she noted.
Ward emphasized that Christians have to stand up and say, "I will make a difference in the lives of women and children in Oklahoma."
"We are in an environment Satan thinks he owns," she said. "That is why Christian people need to come through for the building of this chapel. It's our opportunity to make a difference."
For more information, go to http://prisonchapelinc.building4.net.