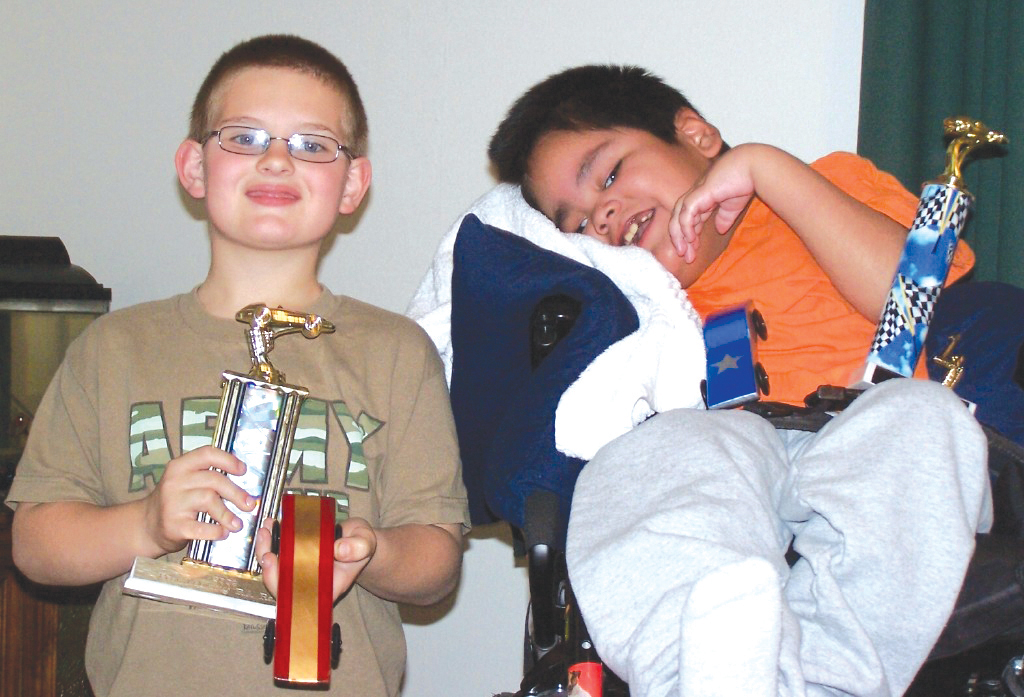 Gabe is Jon Marc's best friend. He makes him laugh. He loves to help him. And he designed and built an RA race car for Jon that captured a first-place trophy. Jon is the 7-year-old adopted son of Jim Roebuck, pastor of Hooker, First, and his wife, Emily. The Roebucks got him when he was 6 days old from the Choctaw Nation of Oklahoma.
"We'd been married for years when God blessed us with Jon," said Roebuck.
Roebuck said the baby was about 3 weeks old when he saw his first medical specialist.
"It was then we got the news about his situation," said Roebuck. "He was diagnosed with fetal alcohol syndrome."
Roebuck revealed that Jon's mother drank, which triggered a stroke seven months in the uterus, destroying two-thirds of her baby's brain.
"The first specialist we saw told us Jon would be dead within a year," Roebuck divulged. "Needless to say, we were devastated, but we began to pray and trust and seek the Lord. We knew it wasn't over until God said so."
The Roebucks said doctors at first thought Jon was blind in one eye, that perhaps he had cataracts and would have to have surgery.
"Of course, we would have welcomed that diagnosis," Roebuck admitted. "But the Lord has been so good. Jon is 7 years old now, and a real miracle. It's a humbling thing to hear specialists say they've never seen a case of someone so severely injured who not only survived, but also is thriving.
Mentally, Roebuck said, Jon is at about a 6-month-old level.
"He has cerebral palsy, macrocephalus, hydrocephalus and epilepsy and is legally blind," Roebuck acknowledged. "Basically, he has one-third of a brain. He has the brain stem that controls breathing and heart rate, but other than that, there is nothing in his head but fluid."
Although he has a feeding tube, and can't eat anything by mouth anymore, he continues to grow.
The Roebucks moved to Hooker, First when Jon was 4 years old.
Little Gabe Flanagan, who lived in Hooker, was also 4 years old. When he met Jon, Gabe told his grandfather that Jon was new in town and had no friends, so he was going to be Jon's best friend.
And that he has been.
"If I talk about Jon, I have to talk about Gabe," said Roebuck. "If you've got one, you've got the other."
Jon and his mother don't get to go to church during the winter because of Jon's compromising immune system, but when Jon does get to church, he loves it. And Gabe, who is the son of Courtney and Angela Flanagan, is right by his side.
"Jon squeals and laughs when I preach," said Roebuck. "You'd think a 7-year-old squealing in church would be disruptive, but our folks love it."
Two years ago, Jon nearly died with pneumonia, and he has recently been in the hospital with pancreatitis and has had two more bouts with pneumonia.
"Gabe and his family had been at the hospital with us one night celebrating Jon's birthday," recalled Roebuck.
"When Gabe got home, his mother found him lying across his bed crying. When she asked him what was wrong, he said he was crying because there was nothing he could do for Jon, and he felt so bad, he didn't know anything to do but cry. So his mother laid on the bed and cried with him.
"Gabe is such a sensitive little boy to pick up on those things," noted Roebuck. "He stays with Jon when he's able to come to church, talks to him, takes care of him. I've never seen anything like it in the life of a little boy. I can't express the special kind of child Gabe is to be willing to be this way with Jon."
Roebuck said a lot of times, kids pick up on differences, and it becomes a divisive thing, but Gabe took the situation immediately as a sign Jon would need someone to watch after him, and he's determined to do that.
At Hooker, First, racing the RA miniature cars is a big thing. Gabe, who is almost a year older than Jon, noted that Jon was old enough to enter a car in the race this year. So he decided to build Jon a race car, too.
Gabe selected a pre-cut car, and put as much time and energy into Jon's car as he did his own, doing all the work himself, including selecting the design and painting the car.
Jon's car won the race in the Lad Division at the church, and was awarded a ribbon. Gabe's car didn't place, but he did win a trophy for the best-looking race car. However, he told his mother he was going to give his trophy to Jon because "he doesn't have any trophies, and I've got three."
His mother told him he should keep the trophy he won, and they would find Jon a trophy that said "best friend" on it. Gabe was OK with that, but three days later, Jon's car won at the Panhandle Association race, so he ended up with his own trophy. Gabe surprised Roebuck the next Sunday morning when he presented the pastor with Jon's first-place trophy.
"I've preached since I was 14 years old, and I couldn't tell you how many times I've preached on the love of God in the last 25 years," said Roebuck. "But, I've never seen God's love expressed any more or any better than when I look in Gabe's face. Here's a child who doesn't just hear about Jesus' love, but shows it."
Roebuck said he believes the Oklahoma Panhandle has some of the most exceptional people in the world, and Gabe Flanagan is just one more proof.
"I've never felt so much love for our family," he said. "You can preach about the love of Jesus all day long, but when you see it in the eyes of a child, it touches your heart in a special way. It's not often you see a lesson in Christian discipleship in the life of an 8-year-old."