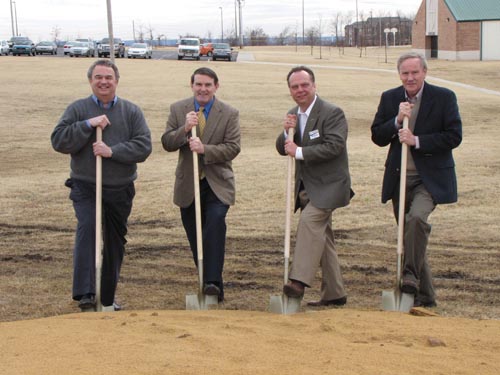 Strong winds and mud were not enough to prevent Baptist Village Retirement Communities (BVRC) from breaking ground on the next phase of retirement living at Baptist Village of Broken Arrow. Dirt was officially turned for the project, titled "The Neighborhoods at Baptist Village of Broken Arrow," at a ceremony on Feb 12.
More than 60 people were in attendance, including Mayor Wade McCaleb. Other attendees included members of the Broken Arrow Chamber of Commerce, BVRC employees, residents and contributors, as well as architect Kenyon Morgan and representatives from Wynn Construction and BancFirst, responsible for the project's construction and financing.
The ceremony began with a welcome from Arvella McCollom, campus director for Baptist Village of Broken Arrow. Following the welcome were introductions and greetings from Bill Pierce, president of BVRC, and Nick Garland, senior pastor of Broken Arrow, First. Paul Abbott, first vice chairperson of the Board of Directors for BVRC, offered comments pertaining to the project, followed by a prayer of dedication led by Chris Finley, director of chaplain services for Baptist Village of Oklahoma City. The ceremony concluded with the official groundbreaking.
"The Neighborhoods" will be located on the campus of Baptist Village of Broken Arrow, 2901 North Elm Place. It will contain four neighborhoods, consisting of 24 assistance-in-living apartments and 24 memory-support apartments. In addition, the facility will have a residential living dining room, café and other amenities, including a fitness area and children's play area.
BVRC is leading the way in shaping the future of aging services, ministering to more than 2,100 people every day throughout Oklahoma in eight Villages, three Home Health agencies and a medical equipment supplier. The hope of this addition is the fulfillment of BVRC's mission to "honor God by providing quality living and compassionate health care in a Christian environment."