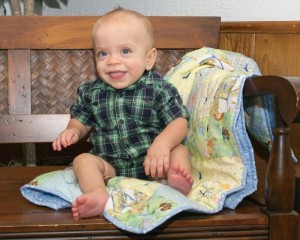 Young Talon Waibel has experienced a lot of drama in his young life.
He lived through a tornado that ripped apart his house, as he was sheltered beneath his parents in a closet.
Just a month after being displaced by the storm, he was diagnosed with a rare genetic disease—Mucopolysaccharidosis, more commonly known as Hurler's Syndrome, which affects one in 100,000 people.
All of this before his first birthday.
Eight-month-old Talon was asleep in his crib on April 15 when his parents, Chris and Becky, received a call from friends in Oklahoma City that a tornado was headed toward their home in Woodward.
Grabbing the baby, they hunkered in a bedroom closet as water and insulation poured on them after the roof of their house blew off. In addition, a brick wall fell on their car in the garage, Chris' work pick-up in the driveway was destroyed and their sports car was crushed by a tree.
But all three were alive and well. At least that's what they thought when they took Talon for his regular well baby check-up a month later.
His pediatrician was concerned because she thought Talon's spleen or liver might be enlarged, and recommended Talon be taken to a specialist in Oklahoma City who deals with genetics.
Klaas Jan Johan Wierenga, a genetics specialist at OU Children's Hospital, diagnosed Talon with Hurler's, which means he was born without an enzyme that helps break down sugar in the body, so the sugars build up in his vital organs. Based on the nature of the disease, symptoms develop as the child gets older and more cells become damaged.
Treatment includes enzyme replacement therapy and a bone marrow transplant.
On June 12, Talon began the weekly enzyme treatments, which are given by IV,  take about five hours to complete and cost $10,000 each.
But vital to his recovery and leading a normal life is the bone marrow transplant. Talon was put on the national registry, but members of Woodward, First, where the Waibels attend church, were anxious to help.
So they set up a blood drive to benefit Talon. That is important because Talon will have to go through chemotheraphy treatments to wipe out his immune system in hopes his body will accept the new bone marrow. During that time, he will need blood platelets, and for every pint of blood donated, Talon will receive credits through the Oklahoma Blood Institute, which can be exchanged for the donor platelets he needs.
Talon's grandmother, Patty Waibel, said the church was expecting around 25 people for the blood drive, but 77 showed up.
"It was overwhelming to see the response," she said. "A lot of those people were able to register as a bone marrow donor. And even thought Talon may not be able to use theirs, they might be a perfect match for someone else."
Patty said it was fortunate that a donor from the national registry was found as a perfect match for Talon.
Finding a bone marrow match early is critical to reducing the risk of mental retardation.
Becky said the family believes Talon's condition has been caught early enough that his quality of life will be much greater than those who do not discover the disease until later in the child's life.
The Waibels have been in contact with a specialist in Minneapolis who works in a hospital that does the most bone marrow transplants of any hospital in the country, and doctors there deal specifically with Hurler's Syndrome. If they decide to do the transplant in Minneapolis, Becky will spend several weeks there with Talon, while Chris continues to operate his wire line company in Woodward.
"It's going to be hard for the family to be separated during this time, but since Chris is self-employed and has his own company, he can't be gone for weeks at a time," said Patty.
Becky said she did not grow up in church, but has been attending Woodward, First, where her husband grew up.
"Since all of this has happened, our church and community have really come together to pray and help," said Becky. "Complete strangers are calling or messaging us with their prayers. It is great how God has brought everyone together. If it wasn't for God's protection, we wouldn't even be here from the tornado."
Patty said the women at Woodward, First make quilts for those who are ill or going through a hard time.
"They set the quilt out on display so people can come and tie strings on it," she explained. "As they tie a string, they say a prayer for that person."
Little Talon was presented a baby quilt by the women.
"When the quilt is presented, you know that lots of prayers have already been offered on that person's behalf," Patty said. "Talon and his parents have been prayed for."