>>By Susan Serrano, Dillon International
Longing for a third child and reeling from the heartbreak of a miscarriage, Ted Kersh and his wife, Jerri, were uncertain what the next step should be for their family.
The couple learned about children available for adoption in South Korea through a news report and a short time later, Jerri told her husband, "I believe it's the Lord's will for us to adopt a child from Korea," Ted Kersh recalled.
The Kershes prayed and God answered Jerri with a Scripture, "Ask of Me and I will give to you the nations as your inheritance," (Psalm 2:8).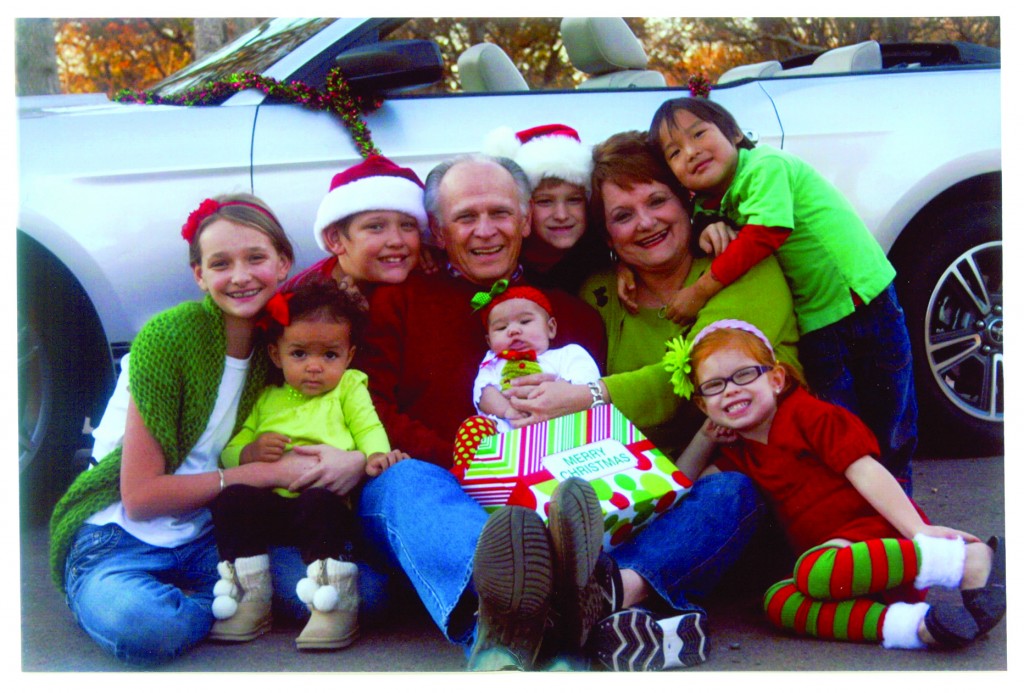 So, they asked and, "We saw the Lord do amazing things," Ted Kersh recalled.
Three decades later, the fulfillment of God's promise is evident in the diverse group of children and grandchildren who joined the Kersh family by birth and intercountry and domestic adoption.
It began with the adoption of Rebekah, who arrived home from South Korea in 1983.
"The day Bekah came home was one of the most exciting days of our life," Kersh recalled. "The airport was packed with friends and family and our sons, Paul and Micah, were just thrilled to have a little sister."
Years later, both sons followed in their father's footsteps, each becoming pastors, having two biological children and choosing adoption to add a third child to their families.
Micah Kersh was on a mission trip, working in orphanages in Haiti, when he felt God calling him to adopt.
"God really used that trip to confirm in my heart that He wanted us to adopt," he recalled.
He did not know it at the time, but while Micah was travelling, his wife, Sunny, was busy checking out adoption websites for information, too.
When he returned home, the couple decided to proceed with adopting and selected Dillon International's Korea program, the same non-profit agency, headquartered in Tulsa, his parents used for his sister's adoption.
"When we decided to start the adoption process, we really were not prepared at all. We were certainly not prepared financially," Micah Kersh said. "We just decided to step out in faith."
Jude, now 4, arrived home in 2009, joining a family that included a brother, Creed, and a sister, Rinn.
"It is phenomenal to see how God blessed us with Jude," said Micah Kersh, worship pastor at Edmond, Henderson Hills.
A short time later, Paul Kersh and his wife, Angela, used domestic adoption to add Lizzie, 2, who is African American, to their family of two biological children, Makenna and Will.
"It seems like Lizzie's always been with us," said Paul Kersh, pastor at Legacy Family Church in Edmond and southwest area manager for the Baptist Foundation of Oklahoma. "She's a joy and delight to our family."
Both Ted and Micah have made celebrating the heritage of their children's birth country a part of their family traditions as well.
The Kersh family participated in Dillon International heritage events when Rebekah was growing up; it is a tradition that Micah continues today.
"Jude attended his first Korea Heritage Camp this summer, but Creed has attended for the past couple of years. It has been a good opportunity for him to learn about his little brother's birth country and heritage," Micah Kersh said. "It is also pretty awesome for him to experience what it is like to be in the minority."
The family's connection to heritage activities continues to strengthen as plans are in the works for Tulsa, South Tulsa, where Ted Kersh is pastor, to be the host location for Dillon International's China and Korea Heritage Camps.
Travel to Korea has also helped the family connect to their children's Korean roots. In 2006, Ted Kersh had an opportunity to preach at a Baptist church in Seoul and traveled there with Rebekah.
"It was such a good thing for me to go and walk the streets of Seoul with my Korean daughter, where I was the minority, and to see what she went through being in the minority here in America," Ted Kersh said.

"The trip to Korea was one of the highlights of my life," said Rebekah Kersh Shipley, a registered nurse in Oklahoma City. "I met my Korean foster mother and she still had my baby picture. It was an opportunity to fill in a part of my life that had been missing."
Micah Kersh, who had the opportunity to meet Jude's foster mother in Korea, regularly shares photos from their adoption trip with his son and shares stories of his birth country and foster mother, who was "an amazing and godly lady," he said.
All the Kershes agree that families considering adoption should prepare for transformations and make prayer the central part of the process.
"If you feel the Lord may be calling your family to adopt, don't just set that aside. Really consider it and pray through it," Ted Kersh advised. "There will be challenges, but the challenges are not nearly as big as the blessings."
"Adopted children struggle differently than biological children do, and everything's not going to be just hunky dory all the time," Paul Kersh added. "But it is so amazing to think about how God, before the beginning of time, set aside a child to become part of your family."
"I love adoption because to me it is a picture of Christ's love for us," added Rebekah Kersh Shipley, who has a daughter Dylan, named after the adoption agency, but spelled differently. "My parents' love for me is no different than the love they have for my brothers, who are their biological children. That parallels God's love for us. It is a picture of God's unconditional love."
Together, Dillon International and affiliated Buckner Adoption and Maternity Services offer intercountry adoption programs in China, Korea, Haiti, India, Hong Kong, Colombia, Ghana, Ethiopia, Russia and Honduras. To learn more, visit www.dillonadopt.com or www.beafamily.org.