TULSA—Alex Himaya might be called a modern-day circuit riding preacher. The only difference is his mode of transportation is video rather than a horse, and his congregations all hear his message at the same time.
But just as circuit riding preachers in the American frontier changed the style and tone of this country's religion, so is Himaya's vision changing the scope of ministry in the Tulsa area.
Himaya became pastor of Broken Arrow, the Church.at BattleCreek some 10 years ago. In March, the church added its third satellite congregation, taking over the once thriving ministry of Tulsa, Immanuel, now known as the Church.at Downtown. The other satellites are theChurch.at Midtown, a former Christian church, and a new congregation in Wheaton, Ill., theChurch.at DuPage, with 65-70 meeting in a very unchurched area, according to Himaya.
Himaya said BattleCreek's first experience with a satellite congregation was in Pryor, which grew from 40 to 400, but leaders at BattleCreek soon determined they weren't efficient in rural America and needed to focus more on the metro area, and gave that congregation to another church.
"Two years ago, we started theChurch.at Midtown from a Christian church that had closed its doors," Himaya said. "Two ladies came to visit our church, one of whom had been a children's minister at the church, who tearfully told me she envisioned children running all over the hill where the church was located, and wanted to talk to us about purchasing that property."
That location now has about 1,000 worshippers.
When members of Immanuel began to realize they were fighting a losing battle trying to maintain more than 100,000 square feet of space with an aging congregation and attendance of 50-60 people, they approached Tulsa Metro Association for help, and Director of Missions Charles Cruce introduced them to BattleCreek leaders.
Tulsa, Immanuel was one of the leading and most prosperous churches in the metro area during the 1950s, 60s and 70s, but a declining neighborhood near downtown Tulsa caused attendance to dwindle. At its height, Immanuel started at least six missions, including Hispanic and Filipino congregations, and its services were broadcast over both radio and TV.
"It there ever was a flagship Southern Baptist congregation with an incredible,  kingdom-minded journey, it would have to be Immanuel Baptist Church of Tulsa, Oklahoma," said Charlie Cru Charlie Cruce, Director of Missions for Tulsa, Association. "Immanuel has come to the end of their journey by leaving a legacy with The Church at Battle Creek and that legacy will live on to advance God's Kingdom.  Both churches serve as exemplary models to other churches!  If there ever was a healthy congregation and pastor who could take on the challenge of adopting a wonderful church like Immanuel, it would have to be Pastor Alex Himaya and The Church at Battle Creek. May the God-size partnership forged between these two great churches be duplicated not only in Oklahoma but all across America!"
Himaya said leaders want to preserve the church's history and build on its heritage, realizing all the Lord has done at Immanuel.
"It's located in a very interesting neighborhood, just a few blocks from downtown Tulsa, and 17 blocks from Utica Square, a very 'cool' spot." he noted. "The immediate neighborhood is very diverse ethnically and economically. It is the highest density populated biracial marriage mile in the state of Oklahoma, with more than 60 percent of the residents in a biracial marriage."
Himaya said they will operate theChurch.at Downtown like theChurch.at Midtown, with a full-time staff, including worship, campus, youth, children's and preschool ministers. Although worship services have already started there and will continue, official public launch will be in the fall. On the first Sunday of satellite services, the attendance was 250, and there were two baptisms, and two more the second Sunday.
"Immanuel members said there had not been water in the baptistry since 2004, so it had been at least 10 years since there had been a baptism at the church," Himaya said.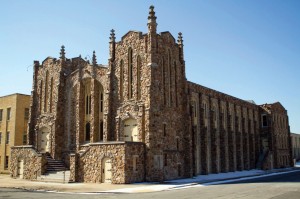 The connection the four congregations have is finances and the mission, plus the preaching of Himaya, who preaches live at theChurch.at BattleCreek, but on video at the other locations.
"Financially, everything goes into one pot, although we track what's happening at each campus," he explained.
As for not having a "live" preacher at three of the campuses, Himaya said it could have been a dilemma, but doesn't seem to be.
"We live in a video-based society," he pointed out. "Our worship center seats 1,500, but I'd say 1,000 of those are looking at the screen even though I'm in the room with them."
According to a story in the Tulsa World, which quoted Leadership Network, the number of multisite churches grew from a few hundred in 2000 to more than 5,000 by 2010. A report from Duke University's National Congregations Study found that the United States has more than 8,000 multisite churches and that 5 million Americans, nearly 10 percent of all Protestant churchgoers, now worship in a multisite church.
Himaya said theChurch.at BattleCreek is open to doing more satellite congregations, especially in south Tulsa and Owasso.
"We have a calling to the Tulsa area for sure," he acknowledged. "Just like one Quick Trip can't reach Tulsa in one location, one church can't reach Tulsa in one location."